BioAg is an all natural, environmentally-safe solution for use in organic farming and gardening applications. Produced through a natural fermentation process, BioAg serves as a cost-effective alternative to chemical additives.Based on the principles of beneficial microorganism applied science developed in Japan over 30 years ago, Probiotics Technology offers an increasingly effective product for a number of agricultural-based applications. Enhanced levels of photosynthetic non-sulfur bacteria (PNSB) have powerful detoxifying, antioxidant properties that help enrich the soil and improve plant performance.

Ingredients: Purified and Structured Water, Proprietary Lactic Acid Bacteria, Organic Sugar Cane Molasses, Mineral Powder, Sea Salt.
---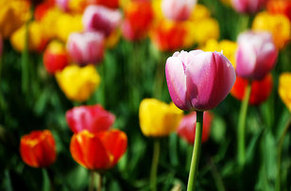 How probiotics help enrich the soil?
All living systems - including soil, plants and trees - have a microbial ecology that can be managed and improved by the constant delivery of probiotics. Bio Ag creates a healthy environment for soil, plants, lawns and gardens by introducing beneficial or "good" bacteria, to dominate pathogenic or "harmful" bacteria. The photosynthetic bacteria (PNSB) also strengthens plants roots by transforming harmful substances into useful elements such as oxygen - helping plants to thrive.

---
---
Use For

Increase seed germination

Improve crop performance
Improve nutritional uptake efficiency of plants when applied to foliage
Improve nutritional uptake efficiency in hydroponic applications
Accelerate large scale composting efforts
Enrich the soil in residential lawns and gardens
Nurture healthy trees and flowers

Benefits

Easy to use in agricultural or household settings
Concentrated formula provides cost-effective solutions
Environmentally safe
Available in "tote" quantities for large-scale operations
Listed by OMRI for use in organic production
Non-flammable, non-toxic, non-corrosive and biodegradable

How to Use 1 : 1000

Agricultural inoculant: Apply as a spray or introduce to irrigation water at a ratio of 1 part probiotic : 1000 parts water. Use 2-3 weeks before planting as a pre-treatment.
Seed soak: Dilute 1part probiotic : 1000 parts water and soak seeds for 5-10 minutes. Spray the dilution every 3-4 weeks during crop growth. Apply diluted, 1-5 gallons per acre to crop residues before incorporating into the soil.
Foliar feed: For large scale applications, apply a total of up to 50 gallons per acre per year.
---